News
Join our team!
January 26, 2018 - We're looking for a customer oriented, data driven, quality focused call center professional to join our merry band of hunger fighters on our FoodShare Helpline team. Learn more about this opportunity here!
Download PDF
Feeding Wisconsin joins call to reinstate ABAWD waiver in areas of high unemployment
March 23, 2016 - On Tuesday, four members of Wisconsin's Congressional delegation delivered a letter to Governor Walker urging him to reinstate the federal waiver to allow Able-Bodied Adults without Dependents (ABAWDs) to access the FoodShare Program without restriction in the 20 counties and 10 cities in Wisconsin with continued high unemployment. Feeding Wisconsin, the statewide association of the six Feeding America food banks operating in Wisconsin, joins with the many local groups and anti-hunger organizations in supporting this effort.
Download PDF
SB 474 Passes Senate Ag Committee
January 14, 2016 - Exciting news as we start the new year that we wanted to make sure you heard about right away. "Harvest for Hope" (SB 474 and AB 611) has cleared its first hurdle and is one step closer to becoming law. Yesterday, the Wisconsin Senate Committee on Agriculture, Small Business, and Tourism passed SB 474 out of committee. This legislation will increase the amount of free, healthy, and nutritious food for food pantries to distribute through a public-private partnership between the state and Wisconsin's network of regional food banks. Thank you to the Senate Agriculture committee for supporting and sharing the goal of Harvest for Hope, one that is shared by every organization dedicated to ending hunger: ensuring that more healthful food is available to Wisconsin families who are utilizing food pantries.

"Forward Together" Blog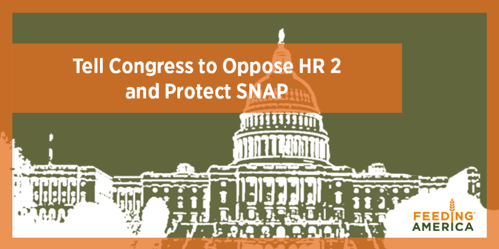 Let's rally for a Farm Bill that fights hunger, not one like H.R. 2, which would increase it!
As many of you know, the Farm Bill is the legislative vehicle that authorizes and funds SNAP. It is up for renewal this year and unfortunately, the House of Representatives is currently considering the passage of a Farm Bill (H.R. 2) that would indiscriminately cut SNAP benefits and make it harder for seniors, children and working families to get the food they need to work, learn and live healthy lives. These cuts would widen the gap that low-income Wisconsin families experience every month.
May 16, 2018 via "Forward Together" Blog
Publications
Hunger in America Wisconsin Report
March 26, 2015
View publication
Wisconsin Hunger in America Summary Report
March 26, 2015
View publication
Harvest for Hope FAQ
January 14, 2016
Download PDF
Press Releases
Feeding Wisconsin Receives $102,000 Grant from Walmart Foundation
August 14, 2017
Download PDF
Statewide Hunger Summit Brings Leaders Together to Fight Hunger, Improve Health & Strengthen Communities
May 8, 2017
Download PDF
View press release
Feeding Wisconsin Concerned About New FoodShare Proposal
January 23, 2017
Download PDF