|
Comments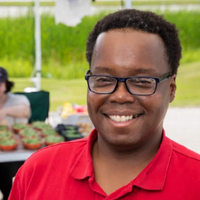 Back in November 2022, Jules Lee joined the Feeding Wisconsin Statewide team as the FoodShare Outreach Program Director, a role focused on optimizing utilization of Wisconsin's supplemental nutrition assistance program (SNAP) benefits that help people buy food during period of need and instability. As a child and young adult, Jules was a recipient of SNAP benefits and shares this lived experience to reduce food insecurity among all Wisconsinites.
Originally from Gary Indiana, Jules completed their bachelor and master's degrees in public health at Indiana University. They also have experience as a volunteer and staff member at the Community Kitchen of Monroe County, Indiana University's Crimson Cupboard Food Pantry, and AmeriCorps V.I.S.T.A. with Spencer-Owen Community Schools. In 2018, Jules accepted a fellowship with the University of Wisconsin's Population Health Institute to support health equity at the state level. Later in 2020, they became a Food Security Manager with Middleton Outreach Ministry, promoting hunger relief
and health equity among Dane County community members.
What excites Jules about this role is they feel life has come full circle: from walking with their Mother as a child to pick up their SNAP benefits, to listening to patrons at Middleton Outreach Ministry share their challenges with food insecurity. They feel fortunate to be on the Feeding Wisconsin team.
---
Share this on social media
---
Join the Conversation