|
Comments

After a couple of days working on produce capture in Fresno, I was off to DC for the National Anti-Hunger Policy Conference sponsored by Feeding America and the Food Research and Action Council (FRAC), which brought together nearly 1,000 (!) anti-hunger advocates across the nation for networking, learning, practice sharing, and a day on the Hill.
This is a conference that I had the honor of serving as a co-chair with the current Executive Director at Feeding Pennsylvania when we were both at Feeding America. Small world.
On Sunday, I had the pleasure to facilitate two discussions on SNAP (known in Wisconsin as FoodShare). For a program that works exactly as it is designed to do and is so successful in responding to fluctuating economic conditions, it catches a lot of bad press. I'm beginning to wonder if it's just our collective disbelief that the government can actually create and run a program that works.
While the rates of fraud and abuse are extremely small, the stories of misuse of the program make us feel angry because we feel taken advantage of and that's a terrible feeling. But our response shouldn't be, let's attack the program. For example, when we see someone stealing from a business, we say, "That person should be arrested," not, "Let's get rid of businesses."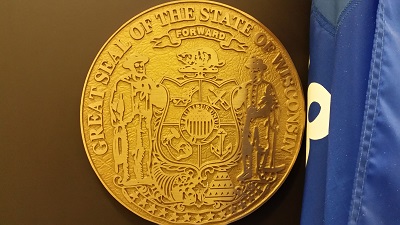 On Tuesday, I was joined by Ossie Kendrix, the Partnership Development Manager at our food bank in Milwaukee, and Peter Bakken, the Public Policy Coordinator at the Wisconsin Council of Churches, as we made visits to our entire Wisconsin Congressional delegation. We talked to members and staff about building and maintaining strong hunger-relief programs and partnerships between the public sector and private charity.
This partnership would include a strong SNAP/FoodShare program that is administered efficiently and effectively, Child Nutrition programs that maintain high nutrition standards that are easy for schools and NGOs to administer and that effectively reach children when they are most at-risk of hunger, and a tax framework that helps to incentivize charitable donations.
It would have been great to have you join us on these visits. It's really important that our Members of Congress hear from you. Thankfully, it doesn't just have to be in DC – you can connect with them on issues like this over the phone, email, or even social media. Here's what you can do today:
If you are interested in learning more about these issues, please sign up for our newsletter to stay abreast on our latest news, updates, and actions
You can learn more about how these policy issues affect families at-risk of hunger
Contact us with any questions you might have about any of these issues
---
Share this on social media
---
Join the Conversation