|
Comments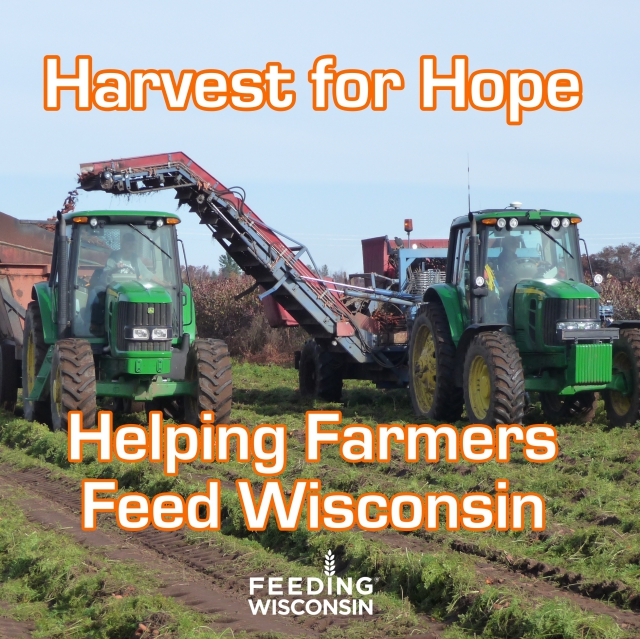 On Friday, Senator Jerry Petrowski introduced SB 474, a state legislative proposal that would establish "Harvest for Hope," an exciting public-private partnership that would increase the supply of fresh, healthy food for the thousands of Wisconsin families that utilize our state's food pantries.
Wisconsin boasts proud agricultural and food industries, growing and processing a diverse range of food products that feed the rest of the country and world. Yet at the same time, far too many of our friends and neighbors living in our state struggle with putting healthy, nutritious food on the table.
As we all know, on a cost per calorie basis, fresh, healthful food can be more expensive than less healthful options and this bind has a real effect on the families coming into our network's partner food pantries.
According to the 2014 statewide survey of our clients, 82% of households report prioritizing cheap, unhealthy foods in order to make ends meet. And at the same time, nearly 53% of these households report having one member with heart disease and 34% report having one member with diabetes.
Furthermore, when clients were asked what they want but aren't getting enough of, they listed fruits and vegetables as their top priority.
As a network, we are committed to increasing the amount of fresh and nutritious food available for the nearly 600,000 Wisconsinites utilizing the 1200 food pantries that receive food through our six regional food banks. In 2014, we distributed over 7 million pounds of fresh produce and we have ambitious goals to triple that amount in the next five years.
The Harvest for Hope program would help us toward that goal by increasing our ability to source and distribute high-quality, fresh Wisconsin grown food products to our network of partner food pantries in all 72 counties of our state.
By matching the private funds that we raise and invest in Harvest for Hope up to $250,000, the program will effectively double our impact, allowing us to source and distribute up to 2.5 million incremental pounds of fresh Wisconsin grown and processed food products.
And with more fresh, nutritious food in our system, food pantry clients will have the nutrition they need to get back on their feet.
Harvest for Hope is a great example of how we can all come together through public policy to fight hunger, help rural communities and support our state's food industry at the same time.
---
Share this on social media
---
Join the Conversation